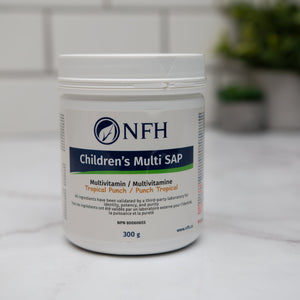 NFH
Children's Multi SAP Tropical Punch
Regular price
Sale price
$48.00
---
300g

Providing adequate vitamins and minerals for optimal health is paramount for the promotion of healthy growth and development in children. While essential vitamins and minerals play individual roles in physiology, nutrients work synergistically to provide the basis for vibrant health. A daily multivitamin and micronutrient supplement ensures adequate intake of all the important nutrients required for the highly active lifestyle of the growing child.
With the evidence being elucidated that today, even our whole foods may be deficient in essential nutrients due to losses through processing, cooking, and over farming. It is imperative that we ensure that our children are acquiring the nutrients they need to promote health and prevent disease. Children's Multi SAP helps promote the development of healthy bone and connective tissue as well as immune, cardiovascular, and energy production systems.
| Ingredient | Amount |
| --- | --- |
| Vitamin C (Ascorbic Acid) | 250mg |
| Vitamin D3 (Cholecalciferol) | 1000 IU |
| Vitamin B1 (Thiamine HCl) | 3mg |
| Vitamin B2 (Riboflavin 5-Phosphate) | 5mg |
| Vitamin B3 (Niacinamide) | 15mg |
| Vitamin B5 (Calcium Pantothenate) | 10mg |
| Vitamin B6 (Pyridoxal 5-Phosphate) | 5mg |
| Vitamin B12 (Methylcobalamin) | 6mg |
| l‑Methylfolate(from calcium L‑5‑methyltetrahydrofolate) | 400mcg |
| Biotin | 300mcg |
| Calcium (from Calcium Citrate) | 100mg |
| Magnesium (from Magnesium Glycinate) | 50mg |
| Iron (from Iron Glycinate) | 2mg |
| Zinc(from Zinc Citrate) | 2mg |
| Iodine (from kelp) | 70mcg |
| Molybdenum (from Molybdenum Citrate) | 5mcg |
| Vanadium (HVP Chelate) | 3mcg |
| Chromium (HVP Chelate) | 40mcg |
| Copper (from Copper Citrate) | 200mcg |
| Manganese (from Manganese Citrate) | 200mcg |
| Choline Citrate | 40mg |
Non-Medical Ingredients
Mixed berry flavor OR tropical punch flavor, natural lemon flavor, malic acid, stevia
Purity
Contains no Gluten, soy, wheat, eggs, dairy, yeast, preservatives, artificial flavour or colour, or sugar. Third party testing on finished product to ensure Children's Multi SAP is free of heavy metals, pesticides, volatile organics, PCBs and impurities.
Suggested Dose

Take 1 scoop once daily with food or as directed by your health-care practitioner. Mix 1 scoop in 8 oz. (235 ml) or more of water or natural unsweetened fruit juice. Stir well until dissolved. If you are taking other medications, take this product a few hours before or after them.