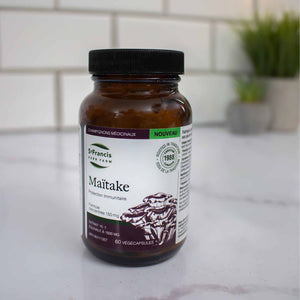 St Francis Herb
Maitake Mushroom caps
Regular price
Sale price
$33.00
---
150 mg per capsule

100% Pure, High Potency 10:1 mushroom extract for maintaining healthy blood sugar levels, equivalent to 1500 mg

Powerful immune protection

Multiple extraction of the pure fruiting body of organic maitake mushroom, not mycelium, for proven optimum efficacy and high bioavailability

3rd party tested to provide an average 21.9% beta glucans, the active component supporting immunity

60 caps
Who It's For: Adults 18 years and older
Use For
To maintain healthy blood sugar levels and for immune protection, general wellness and vitality.
How It Works
Mushrooms are adaptogens that regulate bodily systems back into balance, where they are at their strongest.
Choosing the right mushroom supplement is critical to obtaining the benefits. There can be vast differences between mushroom supplements, which is why we encourage you to compare.
St Francis Medicinal Mushrooms:
Are made from the mushroom itself, also referred to as the fruiting body, on which the vast majority of research is based. They are not made from mycelium (a root-like structure), which indeed is not mushroom, nor has it been properly researched. This also means that there is no supplementation of grain as a major ingredient.

Are third-party tested for beta glucans – the proven immune supportive active component. Based on the science, there is no dispute that these are essential – and we test to ensure sufficient levels and communicate this clearly.

Provide maximum bioavailability. They are not dried mushrooms ground up, a form that makes it challenging for the body to access the key medicinal components, no matter how small they are ground/micronized. They are mushrooms that are put through an extraction process multiple times in order to provide the critical components in a form that maximizes the body's ability to absorb them.

 
For Maitake, the extraction process takes 1500 mg of dried mushroom down to 150mg of high potency extract (10:1 extract).
This provides an additional benefit of providing you a therapeutic dose in only 2 capsules per day.
It is therefore very important to check how many days' supply are in a bottle to determine the price per day, to be able to properly compare.
Ours are 1 bottle = 30 days/1 month's supply.
Dosage:
Adults 18 years and older: Take 1 capsule, 2 times daily, with a little water.
Cautions & Warnings: Consult a health care practitioner before use if you have diabetes.
Known Adverse Reactions: Stop use if hypersensitivity/allergy occurs.
Medicinal Ingredients:
150 mg per capsule: A 10:1 concentration, each capsule contains the equivalent of 1500 mg of dried Certified Organic Maitake (Grifola frondosa) fruiting body.
Non-Medicinal Ingredients:
Hypromellose (vegicap), Rice hulls powder Alcohol Free