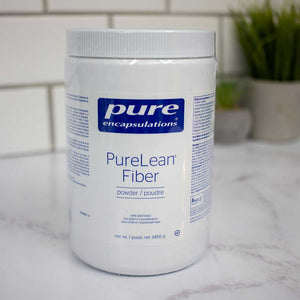 Pure Encapsulations
PureLean Fiber
Regular price
Sale price
$40.84
---
Supports weight management as part of a healthy lifestyle with a reduced-calorie diet and regular exercise; Provides gentle relief of constipation and irregularity; Convenient powder formula for easy dispensing.
PureLean® Fibre contains a blend of PreticX™ xylooligosaccharides, soluble fibres from glucomannan, guar gum, apple pectin and prune powder, and insoluble fibres from cellulose and flaxseed. Soluble fibre helps slow the rate of digestion, promoting digestive health and nutrient absorption. It also absorbs water and adds bulk in the digestive tract to support weight management as part of a healthy lifestyle that includes a reduced-calorie diet and regular exercise. Research has revealed that the high molecular weight and viscosity of glucomannan is particularly supportive of these effects.
In an eight-week double-blind trial, glucomannan provided statistically significant support for weight management in combination with a healthy lifestyle. Fibre also promotes G.I. motility and regularity, supporting healthy bowel movements and softer stools by adding bulk. Studies with glucomannan indicate that this fibre promotes abdominal comfort, G.I. motility and bowel regularity, and is well-tolerated. Furthermore, xylooligosaccharides and soluble fibres are fermented in the large intestines by intestinal microflora, producing short chain fatty acids (SCFAs). SCFAs are important energy sources for the colon and can promote healthy gastrointestinal motility. SCFAs also keep the intestinal environment acidic, providing optimal conditions for beneficial bacteria to thrive. Clinical research has demonstrated that PreticX™ is well-tolerated and less likely to cause the common gastrointestinal complaints associated with other oligosaccharides, such as bloating or gas.
Ingredients
Each Scoop Contains:

Magnesium (Magnesium citrate) 

50 mg

PreticXTM Xylooligosaccharides

350 mg

CreaFibe Cellulose (from Bambusa emeiensis/Bambusa textilis stem) 

1605 mg

Sunfiber® Hydrolyzed guar gum

1500 mg

Flaxseed (Linum usitatissimum)

1085 mg

Glucomannan (from Amorphphallus konjac tuber)(2.6:1, 1300 mg dried equivalent)

500 mg

Prune plum (Prunus domestica) Fruit

500 mg

Pectin (from Malus domestica fruit)

250 mg
Non-Medicinal Ingredients
Xylitol, Monk fruit extract
Purity
Vegan, Vegetarian, GMO Free.
Recommended Adults Dose:
Take 1 scoop (7.2 g) 3 times daily with meals, two hours before or after taking other medications or natural health products, or as directed by a healthcare practitioner. Mix each scoop with at least 240 ml liquid, stir briskly and drink immediately. Not to be taken immediately before bedtime. Taking this product with insufficient liquid may result in choking or esophageal blockage of the throat, esophagus or intestine. Do not swallow in dry form. Consult a healthcare practitioner for use beyond 10 weeks.