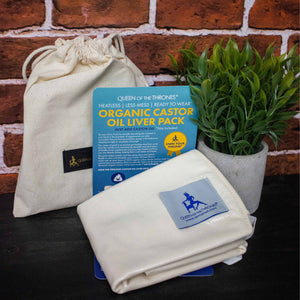 Queen of Thrones
Organic Liver Castor Oil Pack
Regular price
Sale price
$42.00
---
Have you been recommended castor oil packs for liver detox, lymphatic drainage and colon cleansing because of your hormone imbalance or inflamed leaky gut? But you've never tried them because of the mess? 

Queen of the Thrones Castor Oil Pack is easy to do and the #1 practitioner prescribed original less-mess and reusable organic castor oil liver compress scientifically designed by a naturopathic doctor.

How do Castor Oil packs work? Developed in clinical practice, Queen of the Thrones castor oil packs enhance your body's natural liver detox, lymphatic drainage and colon cleansing to support hormone balance, fertility, deep sleep, less stress, inflammation, leaky gut, constipation and bloating.

Why do I need the pack? Why can't you just take castor oil capsules or apply castor oil like massage oil? The gentle pressure of the unique wrap design acts like a pump for the lymphatic drainage system and the soft materials of the compress stimulate skin receptors and somatic-visceral reflexes that shift you from the stressed state to the 'rest and digest' state, where the body naturally detoxes and cleanses.

What is it made of? Your Queen of the Thrones Castor Oil Pack is made of an inner layer of soft organic cotton flannel, an outer less-mess layer of polyurethane (PUL) that is heat-bonded (a cleaner alternative to chemical bonding) to a middle layer of organic cotton flannel, and four 30" stretchy nylon straps that can wrap around and secure your pack in place so comfortably you can sleep in it.

Will it fit me? The compress is designed to fit over the typical size of the adult liver, fitting most bodies with its long, soft straps that hug curves so comfortably you can sleep or go about your daily to-do's in it.

How do I do it? Wear for 1 hour daily or ideally, overnight with 1-2 tbsp of organic, extra virgin cold-pressed, hexane-free castor oil ALWAYS in an amber glass bottle (sold separately). Never use castor oil that is non-organic or bottled in plastic to avoid hormone-disrupting chemicals. Replace after approximately 30 uses (or 2 months). Do NOT use castor oil packs when pregnant. Please check with your doctor if it is right for you.
STEP 1 - Pour 1-2 tbsp of organic castor oil (sold separately) onto the cotton side of your pack.
STEP 2 - Place your pack over your liver area under your right ribcage, and tie in place! That's it! Wear it for 1 hour a day or ideally overnight so you can cleanse while you sleep.
The Quality of Your Oil Determines the Quality of Your Care
Castor Oil that is 100% pure, certified organic, extra virgin cold-pressed, hexane-free and packaged in amber glass is...
Anti-inflammatory & pain-relieving via omega fatty acids
High in antioxidants including vitamin E & polyphenols
Microbiome balancing via biofilm reduction
Colon cleansing via stimulating peristalsis
Circulation promoting via nitric oxide
Supportive of glutathione recycling
*Queen of the Thrones 100% pure, USDA-certified organic, hexane-free, extra virgin cold-pressed Castor Oil sold separately.
Easily Activate Your Natural Healing With Castor Oil Packs
Feel better & activate these 3 vital functions of healing with your castor oil pack by shifting into the 'rest & digest' state, which supports:
Hormone balance (Hashimoto's, postpartum, menopause, etc.)
Fertility (ovarian cysts fibroids, etc.)
Constipation & bloating relief
Ingredients
100% Organic Cotton Sherpa, Eco-friendly Polyurethane, Nylon Straps (100% latex free)