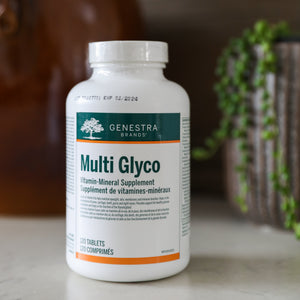 Genestra
Multi-glyco 120
Regular price
Sale price
$61.37
---
Genestra Multi Glyco 120 Tablets:
An antioxidant for the maintenance of good health. Helps in the development and maintenance of night vision, bones, cartilage, teeth and gums; helps the body to metabolize carbohydrates, fats and proteins and provides support for healthy glucose metabolism; helps in the function of the thyroid gland, in wound healing and in normal growth and development; helps to form red blood cells, tissue and connective tissue; source of vitamin A to help maintain eyesight, skin, membranes and immune function; helps to prevent vitamin A, C, B6, B12, pantothenic acid, biotin, thiamine, riboflavin, niacin, zinc, manganese and chromium deficiencies.
Ingredients:
Each Tablet Contains:

Beta-carotene

3000 mcg

(5000 IU vitamin A) 

Vitamin C (ascorbic acid)

200 mg

Thiamine (thiamine mononitrate)

35 mg

Riboflavin

35 mg

Niacinamide

335 mg

Vitamin B6 (pyridoxine hydrochloride)

35 mg

Vitamin B12 (adenosylcobalamin/methylcobalamin)

20 mcg

Biotin

100 mcg

Pantothenic Acid (calcium d-pantothenate)

100 mg

Zinc (zinc aspartate)

15 mg

Selenium (selenomethionine)

50 mcg

Manganese (manganese citrate)

8 mg

Chromium (chromium nicotinate)

200 mcg

Adrenal (from bovine)

50 mg

Pancreas (from porcine)

50 mg

Liver (from bovine)

50 mg

Alfalfa (Medicago sativa) Leaf/Stem

50 mg

Eleuthero (Eleutherococcus senticosus) Root

10 mg

Licorice (Glycyrrhiza glabra) Root

10 mg
Citrate/ fumarate/ malate/ succinate/ alpha-ketoglutarate Freeze-dried from bovine
Freeze-dried from porcine Non-Medicinal Ingredients:
Cellulose, hypromellose glycerin, croscarmellose, sodium, silica. Recommended
Dose:
Adults (over 19 years): Take one tablet daily with a meal, or as recommended by your health care practitioner.
Cautions:
If you have a liver disorder, any type of acute infection, Addison's disease, hemochromatosis, diabetes, bleeding or immune system disorders; or if you are undergoing endocrine therapy (HRT); or if you are taking blood thinners or birth control, consult your healthcare practitioner prior to use. If you are pregnant or breastfeeding; or if you have hypokalemia, high blood pressure, kidney or cardiovascular disorder, a history of systemic lupus erythematosus; or if you are taking thiazide diuretics, cardiac glycosides, corticosteroids, stimulant laxatives or other medications which may aggravate electrolyte imbalance, do not use. Tamper-resistant package.
Recommended dose:
Take 1 tablet daily with a meal