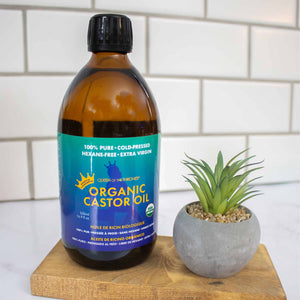 Queen of Thrones
Organic Castor Oil 500ml 100% Pure, Hexane-Free, Expeller Pressed
Regular price
Sale price
$19.00
---
| | |
| --- | --- |
| Scent | Castor Oil |
| Liquid Volume | 500ml |
| Item Form | Oil |
| Brand | QUEEN OF THE THRONES |
About this item
What is Castor Oil? It's most famously used with the castor oil pack for liver detox, lymphatic drainage and colon cleansing. Castor oil isn't just a hair, lash and brow growth serum. This multipurpose carrier oil, traditionally used as an oral stimulant laxative is now your go-to cosmetic and self-care oil. An eye makeup remover, nighttime wrinkle moisturizer or massage oil, castor oil can be combined with other natural ingredients to create hair masks, face masks, nail treatments and more.
Why Castor Oil in glass, not plastic? Glass is a MUST with castor oil. Because of it's ability to permeate and carry substances deeply into the layers of skin, avoiding plastic reduces exposure to hormone disrupters that castor oil bottled in plastic may be carrying.
Why certified organic, extra virgin cold-pressed & hexane-free Castor Oil? Processing can add heat and chemicals which corrupt the integrity of the high antioxidant profile of organic castor oil. When you massage oil into your skin, hexane-free and extra virgin cold-pressed will preserve the highest content of vitamin E, omegas, polyphenols, nitric oxide and more.
Can I drink Castor Oil or take Castor OIl capsules for constipation? Our Food Grade Certified organic castor oil is Not Recommended for these purposes. Instead, for constipation relief, the castor oil pack supports colon cleansing without consuming this gooey, tasteless oil and creating a dependency or harsh urgency and cramping to go to the bathroom.
Queen of the Thrones Castor Oil vs Jamaican Black Castor Oil? Golden castor oil is pure, while Jamaican black castor oil is burnt, which promotes an alkaline pH but destroys its nutrients. Golden castor oil maintains all of its antioxidants and can be made more alkaline by adding baking soda.
100% Pure, USDA Certified Organic
Golden color, unmixed with any other oils or ingredients ensures a high antioxidant profile. Certified organic oil is grown without harmful chemicals or pesticides.

Hexane-Free
The extraction process should be free of synthetic chemicals and not employ any toxic substances that can corrupt the benefits of the oil.
Extra virgin Cold-Pressed
This first press gold standard of extraction process does not use high heat or chemicals and maintains the highest quality of nutrients.
Glass Bottle
Glass preserves, whereas plastic bottles may leach hormone-disrupting compounds into castor oil that may be carried into the body.
Queen of the Thrones, the producer of the Castor Oil sold by Harmony Health Clinic has updated some important information. Please read before purchasing.
Due to concerns with the quality of cold-pressed Castor Oil available on the market, they have switched to an expeller-pressed oil of higher quality. Like cold-pressing, it is mechanically extracted, the only difference is that the expeller press produces heat slightly higher than a true cold-pressing method.
Castor Oil has a higher oxidative stability than most skin oils, and oxidizes at temperatures above 230°F. Cold-pressed Castor Oil is exposed to heat up to 122°F, where expeller-pressed Castor Oil is exposed to heat between 140-210°F max.
A benefit of the low heat exposure with expeller-pressing is that heat helps to extract 87-95% of the oil from the castor beans, making it a more eco-friendly option that uses more of the plant and produces less waste than cold-pressing.
Third-party testing of Queen of the Thrones® expeller-pressed Castor Oil demonstrates that all key specifications including fatty acids/ricinoleic acid profile, saponification, and acid value all fall within the same strictly specified range of standards for high quality organic castor oil as cold-pressed Castor Oil does. This suggests that the low heat exposure of expeller-pressing does not destroy the integrity of organic Castor Oil.
Our promise to you is always to provide the best source of Castor Oil available in the marketplace at the time of bottling. We take every step in making sure our Castor Oil is fit for you and your family, because we use these products on ourselves and our families, too.
We are hoping to have cold pressed back in 2024