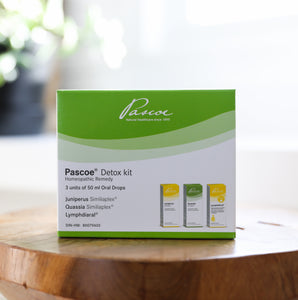 Pascoe
Pascoe Whole Body Detox Kit
Regular price
Sale price
$90.00
---
What is the Pascoe Detox Kit?
It is a Homeopathic kit for the relief of sinus congestion, indigestion, hives, bloating, irritability, fatigue, headaches and constipation.
Pascoe Detox Kit: Your Detox Solution
Pascoe Detox Kit includes Lymphdiaral, Quassia Similiaplex, Junipurius Similiaplex all in 50mL drops. The Kit is a homeopathic kit for the relief of sinus congestion, indigestion, hives, bloating, irritability, fatigue, headaches, and constipation. The products are made from plant-based naturally sourced medicinal ingredients that aid in the detoxification process.
Pascoe's Detox Kit works to help eliminate unwanted toxins from the body. Use Basentabs pH Balance Pascoe (alkaline salt supplement) to aid in toxin elimination process. Support your body's overall health with Pascoe's Detox Kit - available over-the-counter.
How do I use the Pascoe Detox Kit®?
How long does the Pascoe Detox Kit® last?
The complete protocol takes about 4-5 weeks.
How often should I use the Pascoe Detox Kit®?
As part of a regular detoxification protocol, most people detox once a year in fall or spring, or twice a year in both seasons.
How do I take it?
Put 30 drops of each remedy in a 1-1.5L bottle of water and sip slowly throughout the day.
Do I need to change my lifestyle while on the Pascoe Detox Kit®?
For best detoxification effects, you should reduce your intake of heavily processed foods, tobacco, alcohol, and other harmful substances.
You should also follow this basic advice during your detox program:
Eat more fruit and vegetables
Drink more water and less coffee and soft drinks
Exercise regularly, even a walk in the park or a short bicycle ride
Avoid stress as much as possible
Keep a healthy acid-base balance by taking Basentabs pH-balance Pascoe (an antacid supplement from Pascoe. Learn more here).
TIP: Those who cannot sip water all day long can take 10 drops of each remedy in a glass of water, three times a day.
Take Action: A detoxification program that encourages fasting or eating only one type of food (such as a juice diet) adds stress to the body and often the digestive tract which is not good when you're trying to eliminate toxins! Eat a varied diet and use a gentle but thorough detoxification such as PASCOE's Detox Kit®. The Detox Kit product program supports all aspects of detoxification: the lymphatic system to transport toxins, the liver to detoxify them, and the kidneys and intestinal tract for elimination from the body.
*Previously called: Whole Body Cleanse*
Each kit contains:
Juniperus Similiaplex® 50ml drops 
Quassia Similiaplex® 50ml drops
Lymphdiaral® 50ml drops
How to use Pascoe Detox Kit®?
The Pascoe Detox Kit can be used as part of an annual detox program, or more frequently as directed by a healthcare practitioner.
General information about body detoxification:
Supporting the lymphatic system, kidney and liver is crucial for a proper detoxification. Drinking sufficient water, increasing intake of vitamin-rich organic foods and exercise can all play an important role in supporting these organs and improving the body's overall health.
Dosage and administration:
Adults and children ≥ 12 years: Based on your lifestyle, you can either
take 30 drops of each remedy mixed together in one liter of water,
sipped through the day or Take 10 drops of each product in water 3 times a day.