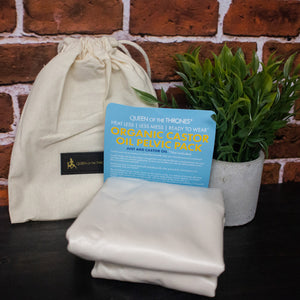 Queen of Thrones
Organic Castor Oil Pelvic Pack
Regular price
Sale price
$32.00
---
Organic Castor Oil Pelvic Pack *Castor Oil not included
Queen of the Thrones® original heatless, less-mess, reusable Castor Oil Pack for Pelvis and Hips.
Inner layer organic cotton flannel 
Outer "less mess" layer polypropylene
Nylon straps
Step 1:Pour 1 tbsp of Organic Castor Oil (sold separately) onto the soft cotton side of your pack in the centre, avoiding the seams.
Step 2:Place your pack over your pelvic area and tie it in place.
That's it! Wear your Castor Oil Pack for a minimum of 1 hour or overnight.

Castor oil can be found here: https://www.drdavisnd.ca/products/organic-castor-oil
Queen of the Thrones, the producer of the Castor Oil sold by Harmony Health Clinic has updated some important information. Please read before purchasing.
Due to concerns with the quality of cold-pressed Castor Oil available on the market, they have switched to an expeller-pressed oil of higher quality. Like cold-pressing, it is mechanically extracted, the only difference is that the expeller press produces heat slightly higher than a true cold-pressing method.
Castor Oil has a higher oxidative stability than most skin oils, and oxidizes at temperatures above 230°F. Cold-pressed Castor Oil is exposed to heat up to 122°F, where expeller-pressed Castor Oil is exposed to heat between 140-210°F max.
A benefit of the low heat exposure with expeller-pressing is that heat helps to extract 87-95% of the oil from the castor beans, making it a more eco-friendly option that uses more of the plant and produces less waste than cold-pressing.
Third-party testing of Queen of the Thrones® expeller-pressed Castor Oil demonstrates that all key specifications including fatty acids/ricinoleic acid profile, saponification, and acid value all fall within the same strictly specified range of standards for high quality organic castor oil as cold-pressed Castor Oil does. This suggests that the low heat exposure of expeller-pressing does not destroy the integrity of organic Castor Oil.
Our promise to you is always to provide the best source of Castor Oil available in the marketplace at the time of bottling. We take every step in making sure our Castor Oil is fit for you and your family, because we use these products on ourselves and our families, too.
We are hoping to have cold pressed back in 2024